Kishtawar, though not so popular as a tourist destination has enough potential to grow into a popular tourist spot shortly. It has mines all around and the saffron fields add a rich natural allure to the region. If you are planning a visit to Kishtawar to shake off the boredom and ennui of city life, the travel information below will help you a lot.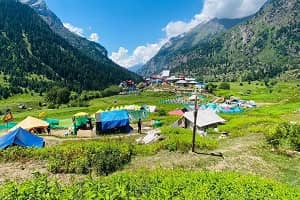 Kishtawar is a prominent district in Jammu that is famous for its saffron fields, sapphire mines, and spellbound natural beauty. This is a relatively less explored tourist destination that will wash away the tired patina of city life from your soul. There is much to see and do in Kishtawar and this article contains all the information.
How to Reach
Kishtawar is near the Satwari Airport which is officially the Airport of Jammu. About one and a half hours of travel by an airport taxi will take you inside the city. Alternatively, you can travel from Srinagar Airport which is 80 miles away.
If you are thinking of traveling by car then it is a good decision as the road network of Kishtawar is excellent. Regular buses are running from Udhampur, Doda, Srinagar, and Jammu.
There is a train line to Udhampur (72 km away) and Rambagh (77 km away)  if you are thinking of commuting by train. There is no railway station in Kishtawar.
Sightseeing
Kishtawar is a small mixed-ethnicity town that is famous for its religious spots, natural beauty, and monuments. You should pay a visit to the following places.
One of the most famous sightseeing spots in Kishtawar is Machail Mata Mandir which is located near the Machel village in the Kishtawar area. Every August thousands of devotees flock to this place. Originally established in 1981 by Kulveer Singh this temple attracts lots of devotees who climb up the small hill on foot. Basic amenities are also organized by the Jammu Government for pilgrims who come here.
Sarthal Devi Temple is historically important as it is beloved by the winder abode of one of the forms of Chamunda Mata; Sarthal Devi. The magnificent deity here has 18 arms and is believed to wield great religious potency.
Kishtawar abounds in Muslim and Sufi shrines amongst which the most famous one is Ziarat Asrar Ud Din Sahib.
The Kishtawar National Park is famous for its flora and fauna especially the Himalayan Antelope and the Himalayan Brown Bear.
Kishtawar is also the base point for a magnificent trek up to Jammu in case you are interested in mountain hiking and trekking. The trekking route goes through Banderkot, Maiden-e Mughal, Daksum, Dadhpeth, and Sinthan, and this route is quite popular amongst mountain-loving tourists as it involves crossing the famous Sinthan Pass. It's also possible to trek from Kishtawar into Zanskar.
Potnag Waterfall is a great scenic spot that is sure to leave you spellbound when you visit this spot in Kishtawar. The Niginsheer Cliff is an excruciatingly high cliff that is almost 4100 meters above sea level and there is a crown-shaped rock on the head of the cliff. The natural beauty of Kishtawar lies in its tranquility and natural splendor so there are not too many commercialized spots here. Tourists who come to Kishtawar spend their time relaxing in the alpine meadows and luscious saffron fields.
Shopping
As mentioned earlier Kishtawar is a non-commercial area known for its natural beauty and Saffron fields. If you visit this place then don't forget to buy packets of Saffron as Kishtawar is the largest producer of this rare herb in India. The villages of Tund, Matta, Chirhar, and Hidyal are best for buying this precious spice. According to Hinduism Saffron has healing and beautifying powers and this is why it has a huge demand in the international market.
Another famous aspect of Kishtawar is its sapphire mines near Paddar. In the local jewelry shops and gemstone dealers of Kishtawar, you can shop for precious blue Sapphires at a much lower price.
The town of Kishtawar serves up traditional Jammu cuisine at its best. Some restaurants serve Chinese and North Indian food too but opting for Kashmiri and Jammu cuisine is best if you want to sample the best of its cuisine. There is a lot of use of fresh spices like cinnamon, saffron, cloves, and cardamom (Kishtawar is known for its Saffron fields) so the food here has a rich aromatic flavor.
If you want to opt for Kashmiri vegetarian dishes then try out duel aloo in yogurt, lotus root curry, fried paneer in red sauce, etc. In non-vegetarian dishes (served only in a few restaurants) you will find mutton and turnip curry, Rogan gosht (tender leg of lamb), spinach and chicken preparation, and fish in saffron curry.
Some dishes you should try out while you are in Kishtawar are Rajma and rice, Morel Pulao, Oria or Pumpkin curry in mustard sauce, Achari Mutton, Raw Mango Chutney, Sticky white Meetha Bhaat, and Kasrod. These are all traditional Jammu dishes.
In desserts try out locally made chocolate and saffron barfi and make sure that you sample some Kaladi or processed cheese.