Dera Baba Banda (A Religious Destination in Himalaya)
Location Tehsil – Reasi,
District Udhampur, Jammu & Kashmir India.
Dera Baba Banda is not only a major pilgrimage center for Sikhs but attracts people from other faiths also. It has a Gurudwara built by Baba Banda Bairaagi on the banks of the River Chenab. He was Guru Gobind Singh`s favorite `Saint-soldier`. Pilgrims in great numbers especially from North India throng this place in the month of April to participate in the three-day annual mela.
Legend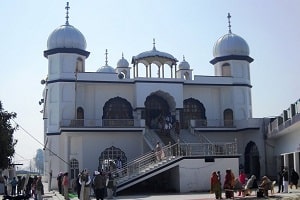 This place is around 300 years old. The historic gurdwara at Dera Baba Banda Bahadur has the samadhi of Banda Bahadur. Here the ashes of Banda Bahadur are also kept, along with an arrow given by Guru Gobind Singh to Banda. Other attractions include a number of weapons and a huge sword used by Banda during wars. Every year an average of 30,000 devotees, from all over northern India, visit throughout the year and especially on the occasion of Vaishakhi when a three-day mela is held.
Attraction
Around 300-year-old shrine.
Ashes of Banda Bahadur kept here
An arrow given by Guru Gobind Singh
A number of weapons and a huge sword were used by Banda during wars
Vaishakhi mela (fair).
Natural beauty hills and landscape.
How to Reach
By Air: The nearest airport is Jammu (75 km) connected with major cities of India.
By Rail: The nearest major Railway station is Jammu (75 km) well connected with the rest part of India.
By Road: It is well connected by road regular buses and cabs are available from Katra (30 km), Reasi, Udhampur Jammu (75km).
Distance Chart
Katra (30 km)
Jammu (75 km)