Ramban is a tiny town located about 150 kilometers from Srinagar and Jammu, in the recently created Ramban District. It lies along National Highway 44 on the banks of the Chenab river, at a height of 1156 meters. To the south lies the famous Patnitop while to the North you will find Banihal.
Getting There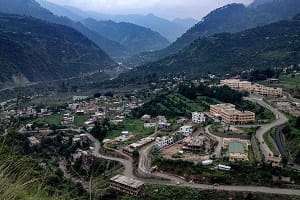 Srinagar is the nearest airport and Jammu is the nearest railhead. You can reach Ramban by road from Srinagar airport or from Jammu railway station by taking private taxis or buses. It is a long drive through scenic countryside before you arrive at this picturesque little town nestling among the giant Himalayas. One other way to enjoy the scenery is to take the train to Banihar and you will pass through the longest tunnel in India, the Pirpanchal Railway tunnel stretching for about 11.2 kilometers. The best time to visit is from April to October when the weather is pleasantly cool.  In winter it can be bitterly cold and roads may be closed so it is not advisable to plan winter travel.
The town has a population of about 8000 people so that makes it ideal if you want peace and quiet. Ramban also is the jumping-off point for a trek to Patnitop. You can just as easily visit Udhampur, Vaishno Devi, and Doda from Ramban or arrive at Ramban from these places.
Accommodation and Dining
The Ramban Regency is a large hotel with all amenities. You can also find smaller guest houses and comfortable lodges. Some offer meals while others only offer stay. There are nearby restaurants and Dhabas where you can sample local cuisines.
Places to Visit
You may not spend much time here and may want to move on. Patnitop is an attractive destination; a thickly forested area with scenic views of the mountains and the Chenab. Apart from natural attractions, Patnitop also allows you an opportunity to go mountain climbing or skiing.  Travel north on the National Highway and you will come to Banihal.
Kashmir is full of tiny little towns like Ramban. Whereas the better-known places are becoming crowded with tourists and lose their charm, Ramban is not that popular, and if love nature and adventure sports, you can go trekking, canoeing on the Chenab River, or explore the surrounding countryside at your leisure. You can go eastward and come upon Gujararu and Alanbas. If you choose to go west, you will find Batli and Khanga to the southwest. Travel to the North to Banihal and you can take a diversion to the two small towns of Shagan and Ramsoo. If you wish to know how people in Kashmir live and work, Ramban is the place to start and get to know people and the traditions in a much better way than you can at larger tourist destinations. As you travel you dine at small Dhabas and taste the local cuisine. You may make a friend or two and come back, enriched with memories of your visit to this tiny town up there in the mountains.