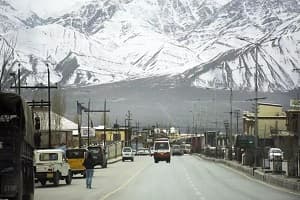 Careful Consideration of Transportation in Ladakh Is Important If You Want To Enjoy the Trip. Ladakh is the forgotten land of rugged and wild mountains, a terrain so bleak you wonder how people can live here until you come across lush valleys alive with vegetation and life. Ladakh is for intrepid travelers, not for the ailing and the weak, especially if you plan to go into the interiors, far from Leh.
By Air
Getting into Leh is easy enough. There are flights from Jammu, Delhi and Srinagar. That is where it ends and you have to switch to road transport to explore the rest of Ladakh.
Motorcycle Rides
When the going gets tough, the tough get going and their chosen mode of transportation is the motorcycle. The roads are steep so get a bike that packs plenty of horsepower like the inveterate Bullet and chug along, stopping where you please and riding when you feel like it. It can be biting but a visit to the Chiktan Palace, a ride on the Zoji La Pass, and a visit to the Leh Palace are rewards enough. Even more rewarding is a cruise through Nubra Valley and a drive to the Panggong Lake, Tsokar Lake, and alongside the Indus River. Make sure you get a permit to travel in these areas.
Four Wheelers
Fly into Leh and then hire taxis or SUVs like Tavera, Innova, Qualis, or Scorpio, and make sure you have photographs ready for permits. The taxi operators have a union and their rates are more or less the same. Obviously, the larger the seating capacity, the higher the rate so pick your vehicle to suit your group. If you are traveling alone or in twos you can get seats in such cabs traveling between two points but be prepared to be packed in like sardines in a can. Also, be prepared for delays due to landslides on roads and traffic jams. For the sake of safety pick a jeep with a 4-wheel drive since this type of vehicle has more traction on the rough dirt roads.
Your Own Car? Forget it
If you are thinking of traveling in your car take the Manali Leh road rather than the Srinagar-Leh road which requires lots of permits. In any case, you must keep in mind that it is difficult to find petrol and also spares or come across a service station so keep spares handy and travel only if you can change tires or do some basic engine work. Traveling in ruts on dirt roads on steep slopes also requires a special skill that city drivers may not have so it is best to leave your car at home and hire a local taxi since drivers here know the roads like the back of their hands and can be trusted to navigate the treacherous roads with safety.
Ponies
Taxis and jeeps are fine for long distances. For shorter sightseeing trips hire ponies. Riding is quite a change and takes some getting used to but it will help you traverse longer distances than you can do on foot.
In any case get acclimatized to the height by staying in Leh or driving along the Manali Leh road at leisure and carrying warm clothing, sunglasses, and sunscreen.