Baba Dhansar (Temple Dedicated to Lord Shiva)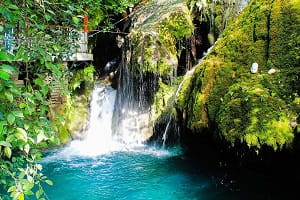 The holy temple of Baba Dhansar is located at Karua Jheel (Pond) near the village Karua, Located 15 kilometers from Katra, on the Katra-Resai road. The distance of the temple from the main road is around 1 km. The main attraction of Baba Dhansar is a naturally formed Shivlingum. Droplets of water can be seen falling on this Lingam throughout the year. It is believed that Baba Dhansa son of serpent king Sheshnag saved the villagers of Karua from a demon with the help of Mahadev Shivshanker. So this place is holy and sacred There is an annual Mela organized here during the Shivaratri.
Legends
It is a mythological belief that when Lord Shiva went to the Amarnath cave to tell Parvati the story of his immortality, he left his serpent king, Sheshnag at Anantnag. Sheshnag took human form and settled here, fathering many sons; one of whom was Dansar. An ascetic saint, Baba Dansar was revered by the locals. When demons attacked the area, the people called on Baba Dansar for his help. At this time, Lord Shiva returned and helped to kill the demon. At Baba Dhansar Temple, devotees find a naturally formed Shivling, on which droplets of the waterfall are at a constant pace throughout the year.
The attraction of The Place
Waterfalls: Here is a huge spring emerging from the rocks which leads to several small cascading waterfalls. Finally, it flows into the Holy Rivulet of Banganga to merge with the Chenab River.
Karua Jheel
The temple of Baba Dhansar is considered sacred. However, bathing is not allowed. An annual Dangal (wrestling) competition is also organized here.
Location
Baba Dhansar is located at Karua Jheel (Pond) near the village of Karua
How to Reach
The nearest airport and railway station are Jammu (65 kms). This place has Beyer linked with motor road one can hire cab or taxi from Katra.
Distance Chart
Distance from Katra: 15 km
Distance from Reasi: 17 km
Distance from Jammu: 65 kms