Ladakh is a unique experience, a journey of the soul to the land of high passes where you can feel a palpable spiritual presence in the forlorn desolate heights. Visit it in summer when it is accessible.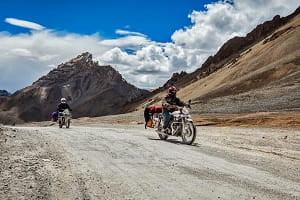 Ladakh is one of the highest locations, inhabited since ancient times, a land of high passes, a landscape desolate, abandoned, forlorn, yet vibrantly alive with life. You will find a unique ethnic mix here of Tibetan Buddhists and Muslims coexisting peacefully because nature is the most formidable opponent. Ladakh is located at an average height of 4,000 meters and is one of the prime examples of how nature can change its mood from gloriously sunny to harshly forbidding in a moment. One moment you have strong, bright sunshine, and then there is a rumble and clouds sweep in and drench you in a thundershower. The cold can make you feel miserable but also quite cheerful to be alive up here with the world and its stresses so far away.
Come autumn the roads are closed due to the very real and present dangers of landslides. As a tourist, you get in when the roads open and get out before the roads close or are prepared to hole up in Leh for a winter that never seems to end.
The best time to visit Ladakh and Leh would be spring and summer, i.e., from April to September end. The weather is passably cool bordering on chilly. The land is clear of snow and there is activity all around as people prepare to farm and plant seedlings. Roads are open and motorable though it can take hours to cross a few miles, with roadblocks, jams, and a minor landslide making the passage interesting as you travel from one place to another. In summer you will notice maximum activity since tourists prefer the months of June to September for adventure sports, trekking, for a view of the magnificent countryside or just to spend days in quiet solitude. At this altitude, you may not even find birds that prefer the warmer, more hospitable lower regions.
If you wish to enjoy your trip, spend a couple of days acclimatizing yourself to the rarefied air and the height. It is not uncommon for people to experience shortness of breath and nausea. Do not be in a hurry to rush off but spend two days to let your body become used. Then you can set out and explore. When you do venture out there are two things to keep in mind.
One is that it can become quite chilly so always carry woolens with you including gloves and headgear. The second is that since the air is so thin, you are more exposed to ultraviolet radiation and, funnily enough, despite the chill, suffer sunburn. Take sunscreen and take care to keep your body covered with a cloth. What do you venture out and hopefully wait to get a glimpse of Yaks, the black-necked cranes, and the Tibetan wild ass?
Summer is the time for adventure lovers. With Leh as the starting point, you can go on to explore the Zanskar, Rangdum, and Nubra Valleys as well as the Zangla, Padum, Shyok, and Kargil. Getting to Leh itself is an exciting journey. Most people take the new Manali Leh highway passing Rohtang Pass and marvel at the sheer height and the way the world seems to spread out before your feet. The air is clear, free of pollution and there is a song in your heart in anticipation of the adventures that await you. While here forego your traditional Punjabi dishes and feast on Tibetan foods such as tsampa, Thukpa, and Gurgur cha. If the heights do not intoxicate you, surely Chang, made from local barley, will. If you have the time and inclination, visit Leh Ladakh in April and stay as long as you can, making the return trip before the roads are closed for traffic.