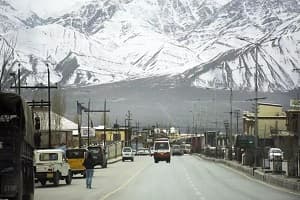 Kashmir is a land of ineffable beauty especially when you visit it in Spring and Summer. Transportation in the valley requires careful planning if you must have a smooth experience. Due to the mountainous nature of the land, the rail network is not as extended as it is in other parts of India and work is still in progress.
Air
Travel by air is convenient and you wish there were more helicopter services in Kashmir but unfortunately, this has yet to become popular so travel by air means landing in Srinagar and exploring other surface transportation means.
Motorcycle
If you have a rugged motorcycle, explore Kashmir on your own. Nothing beats the motorcycle experience but make sure your bike is in perfect condition.
Railways
Jammu is the main railhead from where you can catch a train to travel through the Pir Panjal Railway Tunnel, the longest tunnel in India and also the highest rail tunnel in the country. The rail link connects Jammu to Udhampur, Banihal, Anantnag, and Badgam and ends at Baramulla, which leaves out the most picturesque destinations in Kashmir on this side of Srinagar. That leaves open the only other option and that is to travel by road.
Road Travel
Traveling by road is a joy and a destination in itself. The roads pass through scenic valleys, snake up into the mountains, and then down again. What would normally take an hour in the plains would take three hours to traverse but the beauty of the countryside is so engrossing you never notice how time passes.
Buses
If you are traveling alone, as a family, or as a couple, you will find local State Transport buses to be the cheapest option. Buses start from Srinagar and take you to practically all the famous tourist spots. If you like you can alight at a wayside village just to pass the time, have a cup of the local tea, and then move on. There are private coach operators offering rides on standard buses as well as air-conditioned Volvo coaches, perfect for an overnight journey.
Private Taxis
Private taxis are best if you are traveling in a group or with your family because they will take you to all the spots and you save quite a bit of time. Taxis range from standard old ambassadors (which are reliable nonetheless) to four-seater compact sedans and larger MUVs and SUVs.
MUVs/SUVs
The four-seater cars with or without air conditioning are good for 3 people or 4 with the larger SUVs like Scorpio, Toyota Innova, Qualis, and Tata Sumo being perfect for groups of 8. If two families travel together then it is best to hire a Force Traveller with more seating capacity or even a small minibus that is ideal for groups of 12 to 15 people.
As in any tourist destination in India, there are unscrupulous cab operators who will fleece you if you are not careful. When you do pick a taxi or SUV for your travel, clearly define what you expect lay down the terms, and get the driver to agree otherwise you will find that they will drive off and leave you stranded or milk you for all you are worth. Be precise about the places you want to visit, the time you will spend, and what you expect the driver to do, and clarify the charges as well as expenses such as paying for the driver's meals and accommodation. If you are driving your car get it serviced and fill up your tank at each petrol station. Just a little forethought to transportation will enhance your Kashmir travel experience.