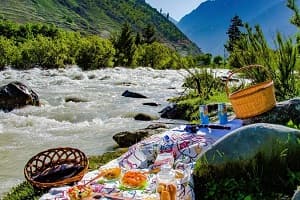 Mammer or Mammer-a as it is locally known is in Ganderbal District, about an hour's drive away or 25 kilometers from Srinagar. This Village, to be more precise, falls within the Kangan Taluk of the Ganderbal District. It is a small Kashmiri village where Urdu is the main language. However, Mammer is the place from where you can take off for more interesting locations such as Budgam, about 32 km away, Sonamarg, about 40 km, Dachigam, about 20 km, and Watlab about 46 km. You could give it a go-by but it is.
Worthwhile stopping and spending a few hours in the scenic environs of Mammer. The hamlet has Ganderbal to the West, Sumbal to the East, Gurez to the North, and Lar in the West. The natural scenery is what attracts tourists and locals to visit this small but quaintly charming place, a place that time ignored as it marched past; a place where you can commune with nature and then come back to the realities of life in a quick time. It is so close yet so far from the main cities like Srinagar, Sopore, and Baramulla.
If you wish to reach Mammer, the Jammu Tawi Railway Station is the nearest 193 Kilometers away from Mammer. After reaching Jammu Tawi, you can avail yourself of the road route to Mammer. This small village is nowadays a popular tourist hub and the chief reason, of course, is its celestial un-spoilt natural beauty that allows you to purify your mind, body, and soul all in one go and you get tremendously recharged and renewed for another race of life. Thanks to the many tour operators who have included this small ignored and unnoticed hamlet in the Kashmir Tour Packages thereby allowing vacationers to explore its celestial charms and the bounties of Nature out there!