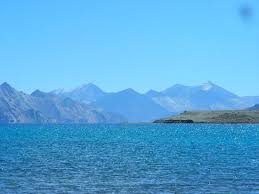 The term, "Pangong Tso", is originally Tibetan and means "narrow, long, enchanted lake' in English. The Pangogn Lake, situated in the Himalayas, derives its name from this Tibetan term. It is basically endorheic in nature and lies 4,350 meters or 14,270 ft above the sea
level. Longitudinally, it stretches over 134 km and interestingly covers areas in both India and Tibet. Almost 60% of the lake comes within the Tibetan region. Although, the water is saline, it gets completely frozen in the winter months.
You will have to endure a five-hour drive, starting from Leh to reach this place. The roads can get a little wild and rough as these are mountainous roadways. You will get to cross the Gya and Shey villages along with the Changla Pass, where the army posted will check you through. After this you come to the local villages, crossing "The Crazy Stream" or the Pagal Nala on way. This lakeside view is open to tourists from May to September but travelers have to gain access to the Inner Line Permit for viewing this jaw-dropping scenic view. However, boating is not allowed for reasons pertaining to security.