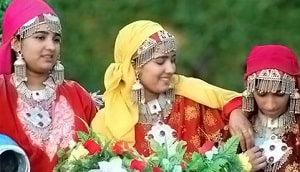 Kashmir, the idyllic paradise on Earth, is home to people of diverse ethnic origins, ranging from Persia in the West to Central Asia in the North and Tibet in the East as well as people from the Northern part of India. Once on the silk route, Kashmir was open to people from various regions, people who left their mark on the culture and lifestyles of the people.
Nomads settled here and brought their traditional practices along. Mughal conquerors and Sikhs had a foothold in this region as can be seen from the landmarks and lifestyles of its people.
The culture exhibits distinct lines of demarcation as well as areas where influences merge and people today have developed tolerance as well as acceptance of Hindu, Sikh, Islam, and Buddhist philosophies. The diversity is seen in the way Buddhists, Hindus, Sikhs, and Muslims retain their individuality and the unity can be witnessed during fairs and festivals when they come together to celebrate.
Modernity is making inroads into the traditional practices and lifestyles of people. However, a walk through older portions and a visit to places not so open to modern values can get you a glimpse of age-old practices and traditions. A typical way of life is the use of Shikaras on waterways.
Water bodies form the basis for a distinctive lifestyle and you can find people who spend the majority of their life on boats, selling produce, and living in houseboats. It is not only on water bodies that you see a distinctive culture and lifestyle; the Kashmir valley is home to separate cultures and languages. Jammu region is mainly Hindu and Sikh-based while Ladakh and Leh are predominantly Buddhist-dominated.
Kashmiri or Koshur is the preferred language of people in the Kashmir valley, spoken by Hindus and Muslims alike. The other languages commonly spoken are Balti, Punjabi, Urdu, Ladakhi, Pahari, and Gojri. Apart from languages that are mainly Indo-Aryan,
You can see Persian and Central Asian influences predominating this region and its people as can be seen in Sufi music, dances, carpet weaving, and shawl making. Jammu region of Kashmir still maintains Dogra traditions carried over from the Punjab region.
The major tribes of this region are the Gujjars, Bakarwals, and Gaddis, mostly nomadic. They move through the region along with their cattle searching for pasture and erecting temporary camps as they go along. Travel to Ladakh and you enter a new world with Buddhist architecture, dress styles, and religion. Ladakh has distinct Tibetan overtones in lifestyles, food, and textiles.
Dresses are a reflection of heritage and tradition and the dress styles of the area show influences of the origins of the people adapted to climatic conditions.  The Pheran is a long loose gown, buttoned at the neck, falling to just below the knees, or in some cases, up to the ankles. Both men and women wear the Pheran but are styled differently.
In summer the fabric is cotton or blends whereas in the cold winters, it is usually woolen. The styles differ for Hindus and Muslims. The Pheran is complemented by a shawl. Headgear is distinctive, the usual one being a skull cap with a border and tassels. For men it is a turban; the more elaborate it is the higher the man wearing it ranks. Traditional dresses are giving way to the salwar kameez and churidar pajama since these are more practical and also stylish.
Cuisines are another pointer to the traditions and lifestyles of the people of a region. Kashmiri cuisine is a rich blend of cooking styles brought here from Central Asia, Persia, and other regions. Mutton is the favorite and rice is the staple. Using dairy products, chefs can cook.
Up delectable concoctions using these two as a base with a variety of vegetables to go along. Winters can be quite cold and one would think alcohol would be the most popular beverage. Surprising, but it is not so. Tea comes, in two variants. One is green tea with spices and nuts without milk while another variant has salt and milk in it.
Modern Kashmir presents contrasting faces in lifestyles. The cities show strong influences of Western styles. Go to the interiors and nothing has changed over the centuries. The Bakarwals, a nomadic tribe, for instance, still follow the age-old practice of walking their herd of sheep from one pasture to the other, covering a distance of about 300 kilometers on foot each year.
It is two decades since the Pandits scattered from Kashmir to other parts of India and their lifestyle is a haunting echo of what was once a glorious tradition. The conflicts and instability notwithstanding, life goes on, and very little rocks the boats on the calm waters of the Dal.