Kashmir – "Wildlife"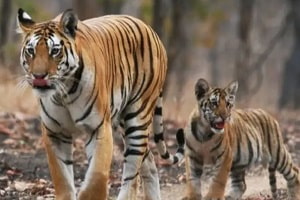 One of the most fascinating and spectacular natural wonders on earth is the Himalayan range of mountains, which guards the valley of Kashmir against various sides. It is one of the richest stores of animal life. Almost one-third of the world's mammalian species are confined to these lofty mountains.
Wildlife, in common language, means ferocious animals, which are not useful to human beings and are confined to forests. But in an actual sense, wildlife comprises all plants and animals that have not been cultivated or domesticated by man and are leading a life of their own in any natural habitat such as forest, desert, grassland, etc. Wildlife is very important for the maintenance of the ecosystem.
The high ranges of the valley of Kashmir are touching the Himalayas. The Hangul or Kashmir Stag is one of the most endangered species of red deer in the world. There are various wildlife sanctuaries in the valley which are located in Srinagar, Anantnag, and Baramulla districts.
Dachigam Wild Life Sanctuary:
Dachigam is situated ahead of Harwan in Srinagar city. It is at a distance of 21 kms from Lal Chowk. Its altitude range varies between 1700 – 4800 meters M.S.L. The park is spread over an area of 55 sq. miles. It is the home to the endangered species of the Deer in the country.
Fauna: Black and brown bears, musk deer, leopards, and migratory birds.
Birds: More than 150 species of birds are available in the Dachigam sanctuary. The principal species are Monal; Koklas, Bearded Vulture, Griffon Vulture, Golden Eagle, Grey Heron, Starling, Golden Oriole, Paradise flycatcher, Western yellow-billed blue magpie, Kestrel, Peregrine Falcon, Black bulbul, etc.
Flora: There are over 50 species of trees, 20 shrubs, and 500 species of herbs. The principal species of trees are Pinus Griffithii; Abies Pindrow; Juglans Regia; Morus Armeniaca; Corylus Column; Quercus robur; Ulmus Wallichiana; Aesculus Indica etc.
Shrub Species Include: Berberis spp.; Desmodium Tiliaefolium; Parrotiopsis Jacquemontiana; Indigofera Heterantha etc.
Gulmarg Biosphere Reserve:
Gulmarg Biosphere Reserve covers an area of 180 sq. kms at Gulmarg which is at a distance of 48 kms from Srinagar city. It lies in district Baramulla. It is situated at an altitude range of 2400 – 4300 meters above MSL. It is famous for reserving several rare and endangered species like the Musk Deer and a rich and varied avifauna.
Flora: With a rich cover of vegetation, the dominant species of conifers include Cedrus Deodara; Pinus Griffithii, Abies Pindrow, Aesculus Indica, etc.
Shrubs Species: Major Shrubs are Indigofera, Heterantha, Viburnum spp, Sorbara Tomentosa, etc.
The ground cover is dominated by Dicotyledonous herbs comprising Rumex Patientia; Rpimula spp; anemone spp. Etc.
Fauna: The main species include Hangul, Musk Deer, Serow, Brown Bear, Leopard, Black Bear, and rare Red Fox, etc.
Avians: The common birds are: griffon vulture, monal, snow cock, Koklass, blue rock pigeon, Kashmir roller, European hoopoe, jungle crow, etc.
Overa Wildlife Sanctuary
Overa, a beautiful location is situated near Pahalgam in the Islamabad district. It is almost 76 kms from Srinagar. The sanctuary covers an area of 32.27 kms. The area is home to several rare, endangered, and protected species of birds and mammals. It sustains 13 species of mammals and over 80 species of birds.
Flora: Conifers are mainly confined to the sanctuary area. The main species are Pirus Griffithii, Abies Pindrow, Aesculus Indica, Morus Alba, Juglans Regia, etc.
Shrubs Species: Major shrubs are: Indigofera Heterantha, Desmodium Tiliaefolium Ilsdon spp. Etc
The ground layer is covered by dicotyledonous herbs i.e. taraxacum officinale, Artemisia vulgaris, anemone spp, primula spp.
Fauna: Hangul, musk deer, serow, rhesus macaque, langur, leopard, leopard cat, etc. are the main mammals.
Birds: Birds include: Chukar, Koklas, monal and Himalayan snow cock, jungle crow, red-billed chough, griffon vulture, bearded vulture, Himalayan whistling thrush, rufous backed shrike, Indian mynah, etc.