Pahalgam is another renowned hill station, located in the Anantnag district of Jammu and Kashmir. It attracts plenty of tourists each year and is also a health resort. Not only is Pahalgam a noted hill station, but it is also a popular trekking spot. One can trek about 35 Kilometres from Pahalgam through pinewoods and reach the stunning Kolahoi glacier.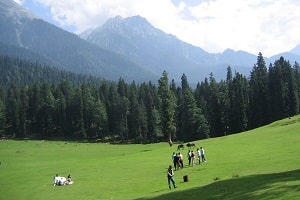 This small town is located on the banks of the Lidder River. It experiences an extremely long and cold winter season and the summers are pleasant and short. Pahalgam has dense vegetation that primarily consists of conifers. It also boasts of plenty of rare and endangered species such as musk deer, Himalayan mouse, grey langur, brown bear, etc.
The presence of the Indian Army is quite prominent in this area due to the constant threat of illegal immigration from across the border. Army jawans are seen patrolling in this area constantly and therefore, the area is mostly on high alert.
Main Places to Visit or Activities to Undertake During Pahalgam Stay
For religious travelers, Pahalgam could be an important destination as it is associated with the Amarnath Yatra. The yatra begins from Chandanwari, about 16 km from Pahalgam, during July-August when the Hindus observe the month of Shravan. The road from Pahalgam to Chandan wari can be traveled by car as it's quite flat, but from Chandanwari, the road is quite steep and hence, one can either travel by foot or on a pony.
From Chandanwari, the Sheshnag mountain lake is about 11 km away and the last stop of the yatra is about 13 km from Sheshnag Lake. The yatra stops at Panchtarni and from here, the Amaranth cave is about 6 km away. It is widely known that the Amarnath Shivling is a natural Shivling that forms naturally. In the month of Shravan, an ice stalagmite forms a natural Shivling.
Kolahoi Glacier
The Kolhoi Glacier is a hanging glacier below the Kolahoi peak It is situated up the Lidder valley, and can be reached from Pahalgam via Aru. In the past, it extended up to 35km, but presently it has hollowed due to global warming, the Asian brown cloud, and other local environmental factors.
Betaab Valley
This valley takes its name after a Bollywood film named Betaab. The film starred Sunny Deol and Amrita Singh. The valley is 15km from Pahalgam and falls on the way to Amarnath, between Pahalgam and Chandanwari. The valley looks gorgeous with lush green meadows, snow-covered mountains, and dense vegetation.
The adventurous tourists can also go trekking in Aru valley, Kolhoi glacier, Tarsar Lake, Chandanwari, and Leh. You can also try pony rides in this picturesque town that is only of 2-3 kms. In addition, you can also go to Baisaran, called mini Switzerland, Kashmir valley, and Dabian on a pony.
White water rafting in the Lidder River and through the dense forests is also a must in Pahalgam.
Aru valley is an excellent place to stay in the lap of nature though the options are quite limited.