Kashmir is a paradise with one of the most enchanting and beautiful natural locales you can find anywhere in the world. For millennia it has attracted people from the North, West, South, and East. The result is that the region has evolved a distinctive culture, a blend of Central Asia, Buddhist, Hindu, and Sikh traditions.  Kashmiri is the language and the State has evolved music, dance styles, and cuisines unique and identifiable. Though the state of Jammu and Kashmir is considered one, three separate cultures prevail; one in the Kashmir valley known as Kashmiri culture; another predominantly Sikh and Hindu in Jammu, and Buddhist overtones in the Ladakh region.
The People
Kashmiris today are descendants of Turks, Afghans, Iran, and Central Asia and as such have their culture infused with the original culture of these places. Generally, Kashmiris are light-skinned and have eye colors ranging from brown to grey to blue and black. There are Hindus and Muslims, each following time-honored cultures and traditions, reflected in lifestyles, music, food, dress, and art. The Pandits are Kashmiri Hindus and lead a simple lifestyle. They are generous and warm-hearted. Muslims are divided into Sunnis and Shias, both co-existing amicably. The Gujjars are the hill tribes of Kashmir, variously believed to have settled here either from Rajasthan or from Georgia in Central Asia. Another ethnic group is the Hanjin who mostly are to be found on the rivers and lakes of Kashmir. The Bakarwals, like the Gujjars, are nomadic and herd cattle. Then you have the Dards to be found only in the valley of Gurez.
The Cuisine
Most Kashmiris, even Hindus, are non-vegetarian with rice and lamb featuring significantly in their diet. Lotus stalks, turnips, and Karam Sag are the favorite vegetables, and the kahva, a brew of green tea enriched with spices is the popular beverage. Another variety of tea is made with Tea leaves and milk with salt added for taste. The cuisine here has distinctive overtones of Persian, North Indian, and Central Asian cuisines with a local touch. Mutton is the mainstay, prepared in over 30 different ways using oils, spices, and yogurt with plenty of tomatoes, garlic, and onions. Vegetarian dishes of Kashmir use Paneer, potatoes, lotus stem, kidney beans, and spinach. The popular vegetarian dishes are Dama Olav made with potatoes, Choek Vangan made of spinach, Nadeir Yakhean with lotus stems, Veth Tsaman, and Ladyar Tsaman with paneer.
Everyone knows about Kashmiri non-vegetarian dishes Chamani Qaliyan, Gushtaba, Roghan Josh, Kashmiri Yakhni, Aab Gosht, and Matshgand, involving the use of dry fruits, ghee, and spices. When it comes to sweet dishes and delicacies, Kashmiris use plenty of dry fruits and nuts. Popular sweet desserts are Phirni, Sevaiyan, Shakar Pareh, Panjeeri, and Shufta.  What others call feast or davit, the Kashmiri term as Wazwan is a spread of exquisite dishes prepared by a master chef. A typical menu would include Korma of mutton, Sheekh Kabab, lamb cooked in oil, milk, and curds known as Gushtaba, and Fish kababs.
Dress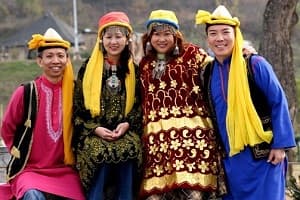 The Pheran is a typical Kashmiri dress, different in styles as worn by Hindu and Muslim women. It is a loose gown that comes down to below the knees. The pheran of a Muslim woman is more elaborately embroidered and knee-length whereas that of a Hindu woman reaches to her ankles and the sleeves have brocade embellishments. Churidar, Pyjama, shalwar Kameez, skull caps, and Tauranga are the other items of apparel in this region.
The Kangri
This is unique to Kashmir and sets it apart from the rest of India. The Kangri is an open clay pot set in a willow basket with a carrying handle. The purpose is to fill the clay pot with hot coal and use it to keep oneself warm in the bitter winter chill.
Folk Dances and Music
It is only to be expected that a fusion of diverse cultures would give rise to a variety of colorful and energetic folk dances and music. Kashmir does have a few unique to the region. The Chakri is most popular, making use of Rabab, Sarangi, and Garaha in the olden days but now relies mainly on the harmonium. The Bhand Pather is folk art and theatre, lampooning social traditions, usually performed by over 10 artists to the accompaniment of song and dance. The mystic Sufis too left an indelible mark on Kashmir and Sufi music is popular in the region, using the Santoor, Saz, Tabla, and Sitar to accompany a group of qawwals and, in some cases, a dancer. Men of the Wattal area perform the Dumhal folk dance whereas the women perform Rouff. The dancers wear long colorful robes and headgear and perform to music and songs.
Arts and Crafts
When you think of Kashmir you think of Pashmina Shawls made from the finest wool in a typical style said to have been brought here from Persia. The fineness is due to the use of hair of the Ibex, a mountain goat found at high altitudes, used in making this expensive apparel. Pure Pashmina is difficult to find since these days it is a blend of rabbit and common lamb wool. The hand-knotted carpets also trace their origins to Persia but are unique in the style that evolved here. Silk and wool are used to make richly colored, intricately designed carpets. The word crewel also brings to mind the fantastically embroidered fabrics from Kashmir. Artists use pointed hook and chain stitch threads into solid patterns that give depth and richness to the final fabric, usually furnishings. The effect is beautiful.
You will also find Namdas or felted mattresses made of a mixture of wool and cotton, additionally embroidered with wool or acrylic threads. Furniture and carvings are also a specialty of Kashmir, with walnut wood used to create some of the finest carvings and objects of art.  Papier mache is another art form redefined by Kashmiris. What distinguishes papier-mache products of Kashmir is that they all carry elaborate and intricate paintings on them, adding immensely to looks and value.
To know Kashmir culture, you have to live there and experience it in its myriad forms.