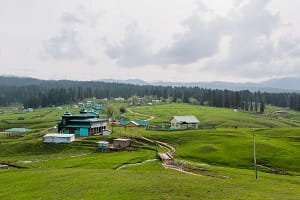 If you love meadows leading to Fir and Pine trees with a river bubbling away merrily to one side and snow-clad mountains towering in silent majesty in the background, you will love Yousmarg, a quiet and charming little hill station not far from Srinagar. A two-hour drive transports you to this idyllic retreat where you can stay for a couple of days and lose yourself in the enchantment of the place.
Yousmarg is on the banks of the DoodgangaRiver, near Charar-e-Sharief. There is quiet magic here and Yousmarg is also the jumping-off point to treks to Pir Panjal, Sunset, and TatakootiPeaks in the distance. Yousmarg is at a height of 2396 meters and that makes it pleasantly cool when the plains of India are sweating in the blistering heat of scorching summers.  Not far from Yousmarg is NilnagLake cradled by Pine trees and mountains. Travel a bit further and you chance upon the frozen lake in Sang-e-Safed valley, where the ice does not melt even in summer.
Getting There
Fly into Srinagar and from there hire a cab or take a bus to Yousmarg, only 47 kilometers away. However, the journey itself will be quite as charming as the destination, taking you through the hills and valleys of the scenic countryside of Kashmir. Summer, of course, is the best time to visit. In monsoon, the entire area takes on a verdant look while in autumn it is gold and crimson colors that rule the roost. Come winter and Yousmarg wears a blanket of white. It can be quite cold in winter so take along plenty of woolens.
Attractions
Since it is so close to Srinagar, locals drive up for a picnic at Yousmarg. You could of course choose to stay a couple of days and recharge your batteries here as also explore attractions in the area.  The NilnagLake is only 4 kilometers away, a picture-perfect location. Frozen Lake is 10 kilometers away in the Sang-e-Safed Valley. Make Yousmarg the base and plan trekking trips to these places, camping in the open to let nature infuse into you. Tsrar-e-Sharief or Charar-e-Sharief is another place you could visit.
For those looking for a charming retreat, Yousmarg is perfect. If you wish to undertake trekking expeditions, this is the start point for expeditions to Tosa Maidan, taking you through Poonch and Gulmarg. On the way, you will pass tiny springs, some with medicinal waters.
There is plenty of action at Yousmarg, of that you can be sure. Trekking is mild compared to the thrill and excitement of skiing down the slopes around Yousmarg. Full facilities and equipment are available at these ski points. Walking around the area may be a bit tiresome so get on a horse and canter gently in the valleys.
Dining and Accommodation
Apart from Jammu & Kashmir Tourism department run cottages and dining rooms, you can also stay at economical as well as upscale hotels. Eat at local Dhabas and taste the local cuisine or dine on the more traditional fare at restaurants. If you go trekking, take water and food along.
The Yousmarg Development Authority is actively engaged in promoting the place to tourists. Along with better roads and accommodation facilities as well as camping sites, the YDA promotes mountaineering and adventure sports to attract more tourists to this tiny paradise high up in the mountains.