Kashmir has aptly been called the 'Switzerland of the East for the abundance of natural beauty it possesses. It is the land of meadows, magnificent gardens, tall Chinar trees, sleepy lakes, snow-covered Himalayan peaks, and lush green meadows. Today, it's time to know more about the beauty of Sonmarg, which is a hill station in Kashmir.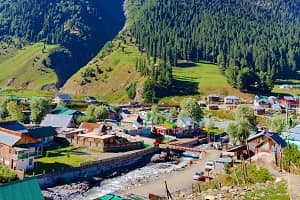 Sonmarg, literally meaning the meadow of gold, is the gateway to Ladakh and is situated just before the Zoji La pass. It is located on the Srinagar-Leh highway.
Sonmarg is nothing short of a visual treat for nature lovers. Besides being a spectacular place, it is a popular adventure sport and trekking point too.
Very close to Sonmarg, you can find the Himalayan glaciers namely Kolhoi and Machoi glaciers. Sonamarg is on the bank of the Nallah Sindh, which is the largest tributary of the river Jhelum.
Interestingly, there are no permanent dwellers in Sonmarg. Another interesting aspect of Sonmarg is that the area remains completely out of reach during heavy snowfall and avalanches in the winter season. Most of the residents work in the tourism industry and stay in this area during the peak tourist season only.
History Of  Sonamarg
Historically, Sonmarg was a gateway to the Silk Route in ancient India, along with Gilgit. The Zoji La pass has a base camp for Ladakh which is an important strategic point for the Indian Army as it holds control over this area of Kashmir.
Places to See In Sonamarg:
It is widely known that Kashmir was stricken with violence that affected the tourism of the state negatively. However, things have changed now and Kashmir has managed to become a preferred destination once again since 2009. You can visit several places when you are in Sonmarg.
In Sonmarg, the Thajiwas glacier is a major attraction for tourists when Sonmarg opens to travelers in April. You can hire a pony to visit this glacier.
Trekkers can explore the trekking routes that lead to the Himalayan treks of Vishansar, Kishansar, Gangabal, and Gadsar Lake. Leh is another popular place that trekkers can explore.
Mountaineering is also practiced and taught to those who are interested. You can learn to climb some very challenging Himalayan peaks such as Kolhoi Peak, Mount Haramukh, Machoi Peak, Sunset Peak, etc.
If you are a regular rafter, you can also participate in the yearly river rafting tournaments held in Sonmarg. Along with Sonmarg, you can also plan a trip to places such as Aru, Gulmarg, Yusmarg, Pahalgam, Srinagar, etc. which are predominantly hill stations.
There are several lakes that are admired by tourists, for their beauty and serenity such as the Dal Lake, Satsar Lake, Manasbal Lake, Wular Lake, etc. The Baltal Valley is quite close to Sonmarg. You could plan a day excursion to this place which lies at the foot of the famous Zoji La pass.
Though tourism has picked up in Kashmir once again, there are only a handful of places to stay in Sonmarg. So if you are planning a trip during the peak season of the Amarnath Yatra or in case your holidays coincide with the yatra, you should book your hotel in advance. So are you ready to soak in the bountiful beauty of Sonmarg?