Udhampur, a small serene town in the backdrop of snow-capped peaks and the midst of verdant green forest covers draws numerous passionate nature lovers every year. This town falls within the Udhampur district of the state of Jammu and Kashmir. Udhampur district has already been made quite famous by the revered shrine of Mata Vaishno Devi to which numerous pilgrims make a beeline each year. To know more about Udhaampur and plan your next travel, read this travel guide below.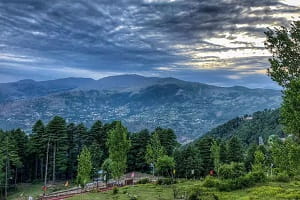 Imagine emerald green forests, azure sky, crystal clear rivers, Blue snow-capped Mountains, and beautiful people…must be heaven, right? Yes. You are in Udhampur, a slice of 'Paradise on Earth'. Make this holiday divine!
In the Udhampur district, the revered Hindu shrine, Mata Vaishno Devi cave temple is situated. It can be rightly called the portal of this popular spiritual destination. From here one can reach Katra, a small town and the base camp of Mata Vaishno Devi temple. The recently inaugurated Udhampur-Katra railway link provides an opportunity to those numerous pilgrims who had this desire to visit and pay obeisance to Shri Mata Vaishno Devi through the ease and comfort of Railways.
Named after Raja Udham Singh, it is the second-largest city in the Jammu region and the fourth-largest city of Jammu and Kashmir. Udhampur town is the district capital of the Udhampur district. It also serves as the Northern Command headquarters of the Indian Army.
Tourist Attractions
Apart from the Mata Vaishno Devi shrine, Patnitop and Sudh Mahadev are also major tourist attractions. Other popular spots include Gole Market, Devika Ghats, Jakhani Park, Ramnagar Chowk (Pandav mandir and Kachalu), Salain Talab, and the Main Bazar.
Among the historical places and monuments, the most famed are the Babore Temples, Kiramchi (Krimchi) Temples, Sheesh Mahal of Ramnagar, Ramnagar Fort, and Shankari Devtaa mandir in Pancheri, shrines of Chountra Devi, and Pingla Devi. Tourist sites also include Patnitop, Sanasar, Devika, Kansar Devta's Shrine, Shiv Khori Cave Temple, Bhairav Ghati, Shiv Parvathi Cave Shrine, Cairhai, Mutal Pingla Devi Shrine, Deva Mayi Maa Temple, Sheshnag Shrine and Latti.
History & Myth
In the distant past, Udhampur was also known as Devika Nagari or the Land Of Devika. In the Nilmat Puran, written by Nela Muni in the 7th century, it is stated that the Devika River is a physical manifestation of the Mother Goddess Parwati herself to benefit the people of Madra Desha. This place roughly covers the areas between the rivers Ravi and Chenab. It is believed that the river Devika descended on earth on the auspicious day of Shiv Ratri. This ancient river now runs beneath its sandy plane. Once a mighty river, now its water comes out by digging about a foot into the sand. In the Devi Mahatmya, it is declared that there is no need to perform any kind of ritual to obtain spiritual benefits during this pilgrimage. One has to only touch the waters of this divine river or have a bath in its waters. This is enough to get the spiritual benefits and absolve all the impurities of the mind. Cremation on the sands of Devika River is considered equally sacred as cremation on the banks of the Ganges at Kashi.
Geography
The city is nestled on the jagged terrains of Shivalik. It is only 68 km ahead of Jammu city towards Srinagar. Katra is only 23 km from Udhampur. Situated in the lower reaches of the district, at an elevation of 756 meters (2480 feet), Udhampur seldom experiences any snowfall. Chenab, Tawi, and Ujh are the principal rivers of the district.
Climate
The climate is sub-tropical. Summer temperature never goes beyond 40 degrees. In the winter, mercury sometimes nosedives directly to zero. Heavy downpours can be experienced. The annual rainfall is approximately 130 cm mainly in the monsoons and in winter times due to the Western Disturbances. In February and March, there can be heavy hailstorms.
Culture
The culture of this area is predominantly Pahari. Dogri/Pahari is the major language spoken by the people of the district. The regional dialect spoken here is known for the melody of its tone. The linguistic variant in the rural and hilly areas has still maintained its native purity of accent and sweetness. The Gujjar community speaks Gojri. This is a Hindu-majority region, with almost a quarter populated by Muslims.
How to Reach:
Udhampur is well-connected to Jammu and New Delhi by rail and road. It is also connected to Srinagar by National Highway 1A. Trains that pass through this city are- Uttar Sampark Kranti Express, Delhi Sarai Rohilla-Udhampur Special, Delhi-Udhampur Jammu Mail, Ahmedabad-Udhampur Janmabhoomi Express, Delhi Sarai Rohilla-Udhampur AC Express, Indore-Udhampur Malwa Express. By air, one can go to either Jammu or Srinagar and then continue the journey by other transits.
Sightseeing in and Around:
Kimchi Group of Temples: These are ancient temples with pre-dated history related to Mahabharata times.
Patnitop: a hilltop tourist attraction.
Mansar lake
Surinsar Lake
Kali Mata Mandir: 9 km from Udhmapur town.
Sanasar: Situated 19 km from Patnitop, it is the center of adventure camps in the wild and paragliding in Jammu.
Nathatop: It is 11 km from Patnitop, en route to Sanasar, known for its panoramic views of the surrounding Shiwalik range and the Brahma massif of the Kishtwar Himalayas. It is also a very popular site for paragliding.
Pancheri: Situated about 40 km from Udhampur city; it is a beautiful hill station and a health resort.
Fairs and Festivals:
The Udhampur district is culturally akin to the Jammu region. Important religious fairs are Maha Shivratri, Lohri, Id-ul-Fitr, Holi, Ram Navami, Baisakhi, Basant Panchami, Martyr's day of Guru Arjun Dev, Raksha Bandhan, Janmashtami, Maha Navami, Dussehra, Diwali, Id-ul-Zuha, Guru Ravi Dass's birthday, Guru Govind Singh's birthday, Navratras. The annual 'Shankri Devta Mela' is a big tourist draw in the summer.
Shopping
Apart from the Main Market and Gole Market, there are numerous shopping malls in this city.
Cuisine:
Udhampur is known for its Dogri food specialties like Ambal, Khatta Meat, Kulthein Di Dal, Dal Patt, Maa Da Madra, Rajma, and Auraiya. Along with this, popular delectables of the Jammu region like Sund Panjeeri, Patisa, Rajma, Kalaadi, Kayur, Kund, Kulche, Golgappe, Bachalo, and Gulgule can also be found.
Best Time for Tour
Throughout the year the region has suitable weather to make your trip pleasant enough, yet the best season to visit Vaishno Devi Temple is between October and March. Summers can be hot and winters can be chilly, so protective gear for the corresponding months should be taken along.