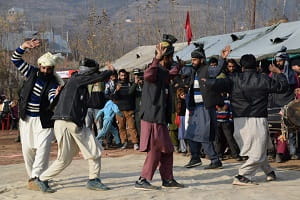 Fairs and Festivals are part of our rich cultural heritage and are the celebration of life in its many colors and moods. Travel to any part of India and you will find fairs and festivals taking place on important religious days and according to the season. Kashmir too has its fair share of festivals and fairs. Fairs and festivals are when men, women, and children come together, mingle, dance, sing and form a medley of colorful dresses to mark a special day before returning to their routine life. Colorful Kashmir itself is a never-ending festival, cloaked in a riot of colors in spring, taking on golden crimson hues in autumn and a blanket of pristine white in winter. On special occasions, people put on their best finery, the most colorful garments, and celebrate fairs and partake in festivals. Kashmir is made up of Hindus, Sikhs, and Muslims and in this region, there is no distinction when it comes to celebrating festivals of all communities. A few of these are described below:
Lohri
Lohri is a North Indian festival, typically celebrated on the eve of Makar Sankranti or 14th January when the sun transits to the North. It signals the onset of spring and is celebrated with fervor and abandon by everyone across the region. The religious-minded perform ceremonies in their house as well as at temples. A bonfire is lit at dusk and children receive gifts from parents. One of the most popular dances, the "Chajja" is performed at various places throughout the region with groups congregating and moving in a procession with a carnival air.
Bahu Mela
Despite being one of the biggest Hindu melas, it is attended by everyone. The Mela or fair is unique in that it does not have a fixed date and is held twice a year; once in March or April and once in September or October. The Bahu Fort and the Kali Temple inside are the venues of the fair. The fort and temple are decked out with lights and crowds throng the area. Hindus, in this region, are devout followers of Kali Mata and on this occasion, they visit the temple and ask for boons. Children enjoy the fair as much as adults do and food vendors, toy vendors, and handicraft makers set up stalls, creating a festive atmosphere.
Baisakhi
Baisakhi is the North Indian term for the month of Vaisakh. Occurring around the middle of April, it signals harvest time and is predominantly a harvest festival. Hindus celebrate the first day of the first month of the Hindu calendar by praying at temples and participating in traditional ceremonies such as bathing in rivers or ponds. More than Hindus, it is Sikhs who celebrate Baisakhi since it is said that Guru Gobind Singhji formed the Khalsa sect on this day in 1699 and thus the day has twin significance. Fairs are organized at various places across Kashmir and you will find people participating in the popular Sikh Bhangra dance with great intensity and joy.
Jhiri Mela
The Jhiri Mela or fair is held around October-November to commemorate the memory of Baba Jitu, a farmer who committed suicide in protest against the oppression of his landlord. Since he lived in Jhiri, the festival is termed Jhiri Mela and is held here by his followers. Baba Jitu has quite a following in North India and people congregate here to celebrate his valor and forthright stand.
Chaitra Chaudash
This is a Kashmiri Pandit festival usually held in March or April, the first day of Chaitra month, for them the New Year or Navreh. Pandit families pray and offer unhusked rice, yogurt, sugar, nuts, salt, silver coin, flowers, and mirror as votives to their deities.
Pandit and Hindu Festivals
For Hindus, Shivratri is also an occasion of importance with Shiv temples being the venue of fairs held in the last week of February or the first week of March. The festival can go on for a fortnight. Whereas Hindus elsewhere celebrate it to commemorate Lord Shiva, here it is Bhairava who is at the forefront. Whereas Hindus elsewhere may fast or eat only roots and nuts, the Pandits celebrate the day with a feast. One of the largest Shivratri fairs is held at Purmandal, some distance from Jammu.
Hindu festivals would be incomplete without mentioning Diwali and Navratri. Diwali is celebrated by Hindus in Kashmir but not with as much fervor as in other parts of India. While Navratra is a gala occasion for Bengalis and Gujaratis, it is much toned down in Kashmir, celebrated quietly from the 5th to the 8th day or only on the 8th day.
Mansar Food and Craft Fair
Whereas most fairs and festivals have religious overtones, The Mansar Food and Craft Fair, organized by the J&K Tourism department is a celebration of all of the finest in food and craft of Kashmir. The fair is organized in April and lasts for three days. You can get to sample the best cuisines of Kashmir such as Shab Deg, Gushtaba, Roghan Josh, Pasanda Kebab, Dum Aloo, Kashmiri Pulao, and sweets, prepared by local chefs and buy the finest handicrafts prepared by Kashmiris and from artists from all over India at this fair. Kashmiri handicrafts such as crewel fabrics, carpets, pashmina shawls, papier-mache products, and walnut wood items are the highlights. Craftsmen and artists from all over Kashmir and also from India congregate here and it is an opportunity to get a glimpse into Kashmir in one place and also buy some mementos.
Tulip Festival
This is a wonderful flower festival organized from the 5th to the 15th of April in Srinagar at the Indira Gandhi Memorial Tulip Garden. The festival showcases the tulips of Srinagar. Apart from flowers, the festival also lets you sample the culture of Kashmir by way of folk dances and songs, cultural programs, cuisine, and handicrafts at the venue.
You may give other festivals a miss but time your arrival for the Tulip or the Mansar festival and get wonderful perspectives on Kashmir.
Ramadan Festival
Ramadan festival is celebrated in the ninth month of the Muslim calendar. it is believed that in the Month of Ramadan Holy Quran "was sent down from heaven, a guidance unto men, a declaration of direction, and a means of Salvation". During these months Muslims take a fast, it is called the Fast of Ramadan and lasts the entire month. It is a time of worship and contemplation.
Eid-ul-Fitr and Eid-ul-Azha
The Eid-ul-Fitr and Eid-ul- Azha are the most popular Muslim festivals in the state of Jammu and Kashmir. If People want to feel and celebrate Eid must visit Kashmir. Eid-ul-Fitr marks the end of the fasting month of Ramadan. These festivals are very auspicious for all Muslims, they wear new clothes and attend many grand feasts. Eid-ul-Azha is an equally important festival, which is more prominent for the Qurbani (sacrifice). People sacrifice goats, sheep, and some even Camels.
Snow Festival
Every year Kashmir govt organized a snow festival or winter games at Gulmarg between January & February like the state skiing championship, the Kashmir snow festival.
Amarnath Yatra
The holy shrine Amarnath Yatra is started each year in June-August Thousands of devotees visit every year to this cave shrine where natural shiv lingam appears in the form of ice.
Gurez Festival
The festival is held in July every year and showcases the traditional folk dances and songs by the Gurez locals besides white water rafting is also held in the Kishenganga river and a campsite in the scenic Dawar valley of Gurez.
Navratri
This holy festival is celebrated all over Kashmir in the month of October or November, a special fair is also held at the Kheer Bhawani temple.
Saffron Festival
The Saffron Festival is celebrated in October during this time every saffron is in full bloom. Kashmiri saffron is very famous in the world. This festival offers an opportunity to see the intricate harvesting of saffron in the colorful fields giving an enchanting view during the moonlit nights.
Urs
The festival urs organized throughout the year at various shrines mostly in honor of the birth anniversaries of saints and seers. The prominent ones include Urs Milad Hazratbal, Urs Peer Dastigeer, Urs Makhdoom sahib, Urs Naqashband sahib, Urs Nooruddin Noorani Chrari sharif, Urs Ashmuquam, Urs Shah-i-Hamdan Khanqah Moula, etc.